MINI CAMERA 2,4GB BISA KE PC(OUT STOCK)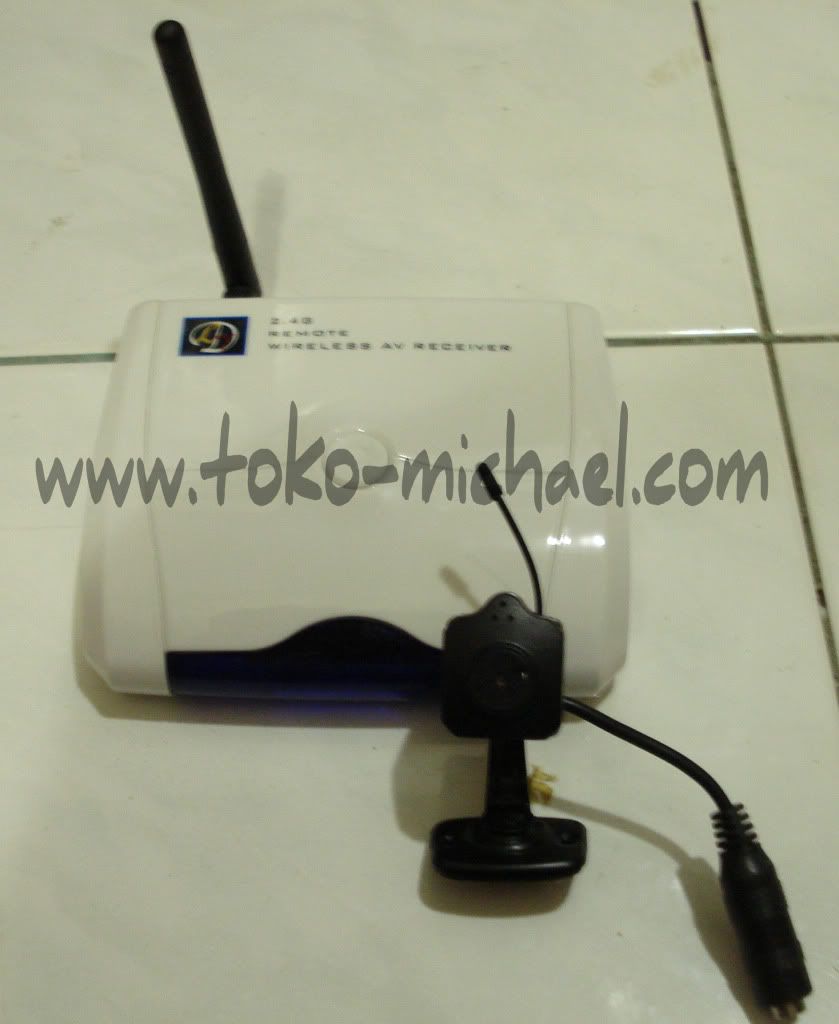 New Receiver with Built-in USB Adapter
and Remote Control And Connects Directly
to Your Computer!
Introducing the World's Smallest "Truly Wireless" COLOR Spy Camera. Measuring about the size of a dime, concealing this camera is not a problem. The transmitter uses the 2400MHz (2.4GHz) "switch + phase" circuitry to GUARANTEE no interference from cordless phones.

Digital circuitry ensures no lost video from external wireless devices. Range is a minimum of 300 feet through walls. In an open area the transmission range jumps up to 600 feet.

The color sensor is a new generation OmniVision that is very impressive. The best performing color wireless cmos camera on the market, PERIOD.
Camera Specifications:
Color 380 Line OmniVision Sensor @ 2 Lux
600 Foot (line of sight) Range
300 Foot (through walls) Range
Operates on a Single 9 Volt Battery
2.4GHz Wireless Receiver w/ USB Adapter
Size = 2/3" Cube
Field Of View 80 Degrees
Pinhole Style Lens
NTSC (U.S.A.) Video System
How Do I Use This Device?
Operation is SIMPLE. Anyone can use this amazing wireless camera.
Simply snap a 9 volt battery onto the camera/transmitter unit
Attach The Wireless Receiver To Your Computer
THAT IS ALL THERE IS TO IT!



Covert video surveillance has never been easier. With the ability to use a single 9 volt battery, concealment is no problem. Hide in a plant, a book, a video case, air vent, automobile, the only requirement is to make sure the small pinhole lens is facing the video surveillance target. When properly placed, the wide camera angle will give you a complete view of a normal size room.
Typical Applications For This System:
Nanny Camera
Residential Surveillance
Small Business Surveillance
Automobile Security / Back-Up Camera
R/C Enthusiast in Airplanes and Helicopters
Motorcycle Helmet Camera
Great For Any Application Requiring Small Size and Portable Use
Because the camera is wireless, simply place it in any area you want to watch over. You can even wear the camera! Then, plug the Video Receiver into your TV! The signal is automatically sent to your TV (or VCR if you want to record the action). Wondering what your spouse is doing while you're away? Concerned with your kids' behavior? Worried your employees may be stealing from you?

This camera has multiple uses. It has been used by detectives to catch cheating husbands and wives, on the popular TV show "Cheaters." Exercise your right to know what's going on around you.
Your Purchase Includes:
1 Full Color Miniature 2.4GHz Wireless Audio/Video Camera
1 2.4GHz Wireless Receiver w/ Built-in USB Adapter
1 USB Cable for PC Hook Up
1 Video Cable For Receiver To VCR/TV Hook Up
Recording Software for Your PC (

NOT COMPATIBLE WITH WINDOWS VISTA OS

)
2 9V Battery Clips for Camera and Receiver
Satisfaction of Owning The World's Smallest Color Wireless Camera

Availability:
Usually ships the same business day.


Wireless Spy Camera: Mini 2.4GHz Spy Camera Powered By A 9-Volt Battery